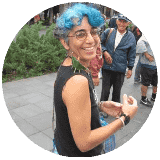 Mojdeh
Journeys Coordinator - Mexico City
I have been living and working in Mexico for 30 years now. Although I am not from here, Mexico has become my home and my roots, my beloved everyday reality.
My profession? I guess I'm a bridge, formed by a lifetime of living in two or more cultures, becoming a part of both sides without losing contact with either.  It started at birth, as I was born in the US to Iranian parents.  When I moved to Iran at age 4, I did not speak Farsi!  But I learned. As a girl in an international, mixed-sex school (very uncommon in Iran), and with an English education, I was Iranian and yet also foreign. When the Iranian Islamic Revolution happened in 1978, my parents sent me to the US. I found myself first in a large public high school in South Carolina and later, alone in a huge American university. In these places, I was an American (citizen) and yet also foreign. 
Upon finishing my graduate degree in 1988, I arrived in Mexico with two suitcases and zero Spanish, for a one-year internship.  Somehow, I immediately felt at home here. I  fell in in love with Mexico City! I stayed another year, and another, and ended up realizing that this is where I wanted to live. I began collaborating with Mexican non-profit organizations and civil society groups in conceiving, planning and implementing social projects. I also became useful as a bridge between these groups and outsiders (students, researchers, activists from other countries) who wanted to get to know them.
Here in Mexico, I continue to live straddled between cultures — I continue to be an Iranian and an American, but I now have Mexican roots and family , too. Over the past 30 years, I have collaborated with Mexican civil society organizations, as well as with international corporate foundations such as the Levi Strauss Foundation and the Kellogg Foundations, facilitating their social grantmaking efforts throughout Mexico, Central America and the Caribbean. In addition, I have organized educational trips and supported university study-abroad groups in Mexico for over 15 years, first for the now-defunct International Honors Program on Rethinking Globalization, and the School for International Training (SIT) but also for groups from European and Canadian universities. And since 2006, through Journeys Beyond the Surface we have accompanied individuals, couples, groups of friends and even university study-abroad groups from the US, Australia, Canada, England, Germany, Austria, Belgium, India, Iran, Hong Kong…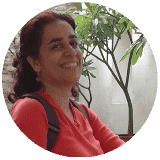 Mahsa
journeys coordinator - oaxaca
Journeys Beyond the Surface, Oaxaca is literally a sister organization of the Mexico City branch, since Mahsa and Mojdeh are sisters!  Mahsa started visiting Mexico since 1988, moved to México in 1997 living mainly in Cuernavaca but traveling through environmental work to Puebla, San Luis Potosi, Chihuahua, Michoacan and Veracruz before moving to the state of Oaxaca in 2001.  She lived for four years with her husband in a small village in the Southern Sierra of Oaxaca, after which they lived in the Oaxaca city center for a few years before moving to their home in the village of San Bartolo Coyotepec.  Living in a traditional autonomous village, her explanations of different aspects of local culture come from personal experience (whether regarding fiestas, music, dance, gastronomy, or  traditional community organization).
Mahsa also worked for many years as an ecologist, working on water conservation projects in many different villages, thus deepening her understanding of the autonomous traditional villages and Oaxacan culture in general.  With her you can visit homes of exceptional out of the ordinary craftsmen and women who are also her friends.
Please note that we have a zero commission policy from the craftspeople we visit.  It is a very common practice in Oaxaca for guides and drivers to receive a commission from craftspeople, but Journeys Beyond the Service finds this practice unethical.   Since  JBS guides and drivers  do not ask for or accept commission from the craftspeople we take clients to, this results in demonstrations  given with much more time, care and  enthusiasm. 
For the past few years, Mahsa has been working on a book documenting the folk dances of Iran's many cultures.  To write this book, she travelled extensively throughout Iran. You can enjoy tales of her adventures in the blog on her website Journeys of  a Diaspora Iranian.  
Please write to Mahsa at journeysoax@gmail.com to program an Oaxaca guided tour shaped to your interests.